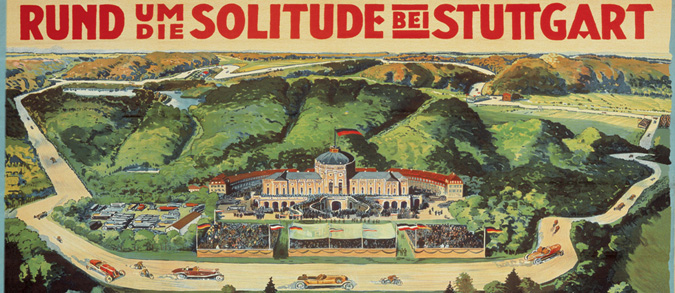 Solitude. In English its meaning conjures up images of isolation and loneliness, however on the west side of the city of Stuttgart, Solitude is something else; a castle.  Schloss Solitude was originally built as a hunting lodge and retreat for the Duke of Württemberg around 1764, and as its name implies it was a place of reflection and quiet.
With the invention of the automobile and motorcycle around the turn of the 20th century, the peace and quiet of Schloss Solitude and its grounds were replaced with the sounds of screaming, high pitched engines.  Schloss Solitude became a racetrack!
For 30 years, the 11.3 kilometers "Solituderennen" south of the castle was used for World Championship motorcycle Grand Prix racing. During the brief period from 1961 to 1965, non-championship Formula 1 races were also held along with the motorcycle races. Drivers of the likes of John Surtees, Jim Clark, Dan Gurney and Jack Brabham all competed there.  At one point, during the heyday of the Solitude races, crowds of 288,000 spectators weren't uncommon. In 1966 it all ended.
If you ever visit Stuttgart, you can still drive the route of the Solitude circuit since it's all public roads.  Little however is left of the original circuit other than the timing and scoring tower "Zeitnehmerhaus" an oval shaped tower with Mercedes Benz and Bosch displayed on it, and the ghosts of racing legends blowing through the trees.
Porsche experienced great success at the race.  In 1956 German greats; Hans Hermann, Wolfgang Berghe von Trips, and Richard von Frankenberg campaigned the great 550 Spyder to victory.
In 1961, von Trips driving the Ferrari 156 F2 beat Hans Hermann in the Porsche 718. In 1962, American Dan Gurney and Swede Joakim Bonnier each driving Porsche 804's took first and second respectively. 1964 saw Dutchman Ben Pon and German Rolf Stommelen each driving Porsche 904 GTS's  sweep first and second. The last race of 1965 was won by Gerhard Mitter in a Porsche 904/8 Spyder.  A wonderful series of victories for Porsche and in their own backyard.
With the checkered flag, it was all over.  The circuit became a victim of safety concerns for both the drivers and spectators.  It was simply too narrow with no run off areas.