By Dan Cole, Absaroka Region
One of the great things about the Porsche Club of America is the friends you meet along the way. Recently I said at our breakfast meeting I was going on a weekend road trip to the Black Hills. I said I was staying at the K Bar S Lodge in Keystone. Who wants to come along? Seven different folks took the bait! (I didn't post the drive on our Facebook page because it was an unofficial event and I didn't want to get our president in PCA hot water, over insurance waivers, COVID waivers, etc.)
The big picture plan I had for the weekend was to get friends together, have a fun and loosely structured weekend, where we can do things together, or in smaller groups and then reunite in the evening to discuss the day.
Jo and I stayed at the K Bar S hotel once before during the PCA Dakota Region's annual "Run for the Hills" event. I decided this was going to be our base location. Staying at the K Bar S were myself (Jo had work commitments with the Heart and Soul Run and couldn't attend), Stephanie Haider, Lynnsey Slanina & Anthony Wain, Buddy and Judi Kastrop, Steve and Sally Hildenburg, Rick and Kathy Brookshier and Jim and Karen Grace. Former Absaroka Member Greg Kohn called and wanted to renew his membership and asked if we were doing any drives. I mentioned my trip to Keystone and he and wife Susan came along as well in their new Mazda MX-5 Miata.
The group met at the Town Pump/Flying J in Lockwood at 8:00 A.M. where we grabbed some goodies, talked about the drive and then headed off for the weekend.
After lunch, we decide to hit the road to Keystone and omit actually driving over to Devils Tower. The visitor's center was closed, so it would only have been bigger, not necessarily a better view than from the restaurant. The road back to the interstate did not disappoint either. It was a genuinely fun drive from start to finish. I would place it as one of the nicer loops in our region. Too bad it's so far away for day trips.
In Sheridan, we stopped for a break, gas stop and to meet Greg and Susan. We then headed to Devils Tower. After leaving I-90, the road to Devils Tower was a blast! It was smooth, twisty, pretty scenery, not too much traffic, just pure Porsche fun. Lunch was in view of Devils Tower at Devils Tower Gulch Restaurant. Their team did an excellent job hosting our group during a busy season for them. We'll definitely return there in the future.
We arrived at K Bar S, our hotel for the weekend in the late afternoon. Once everyone settled in, we met up on the patio for some beverages. Everyone was so relaxed after the drive; we ended up staying there rather than fighting the Keystone crowds that evening for dinner. Greg and Susan who were saying at another hotel went to Hill City and had a wonderful dinner and desserts at the Alpine Inn.
The only way Saturday could have been better is if Jo had been able to come along on the trip, otherwise it was a perfect day!
After breakfast, we assembled for a quick driver's meeting covering the route and ideas along the way. The Brooksheirs and Hildenburgs missed our drive as they were all going to go to the Air Force base for some shopping since they weren't in their Porsches. All good, as that was the plan for the weekend; do your own thing.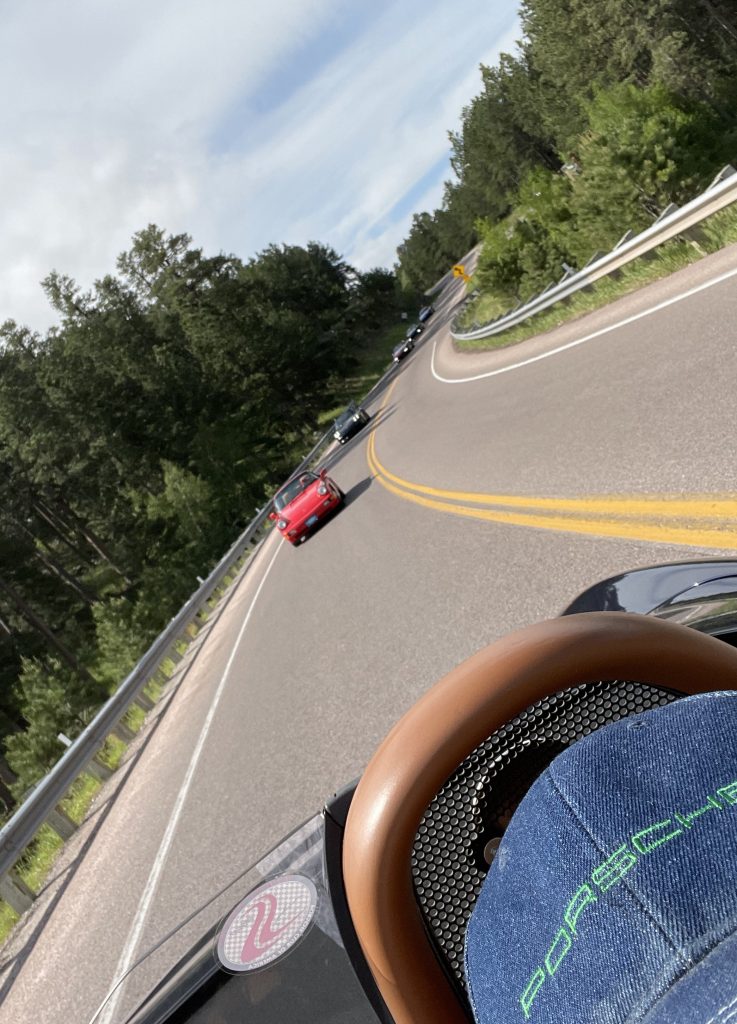 First stop, Crazy Horse Monument. It was a good thing everyone had money because I didn't know there was a fee! Crazy Horse Monument is one families' dream to work with the local native culture to build a monument to one of their great leaders Crazy Horse. The site is packed full of art exhibits, lecture, movies on the monument, native dances and other goodies. The actual Crazy Horse monument is very slowly taking shape. The head is complete, but it's going to take a long time to complete the project as a private undertaking. It's well worth a visit and your time.
On towards Custer and another great two-lane road to drive. Highway 89 to Sylvan Lake and Custer State Park is twisty as it weaved through farmland and the Black Hills. There was little to no traffic until we reached Sylvan Lake, then it was busy as expected. After another well-spent entrance fee, we began the drive on the famous Needles Highway.
The Needles road is a narrow and sometimes single lane road through some unique scenery. You drive through tunnels, pass crazy road formations, and see many other people also enjoying the day on motorcycles, sports cars and family SUVs.
Iron Mountain Road takes us back to Keystone. It's famous for solid rock tunnels with great views of MT Rushmore, pigtail bridges. and scenery.
Dinner was early in order to make it over to the Lighting ceremony at Mt Rushmore. The Powderhouse is a local restaurant and steak house. The food was delicious and the service excellent. The meal was so good the group went back the following evening for seconds!
We headed over to Mt Rushmore to watch the lighting ceremony early. We saw how busy Mt Rushmore was when we drove past earlier in the day and we wanted to ensure we had seats. We were early, maybe too early, with a wide-open amphitheater in front of us, but on the plus side everyone got to explore the grounds and the conversations while waiting for a nice evening. Once the show kicked off at 9:00 P.M., the place was packed. If you have never been to the lighting ceremony, it's something that everyone should see. In this time where we as a nation are so divided, the National Park Service does a wonderful job explaining why Washington, Jefferson, Lincoln and Roosevelt were chosen to be on the mountain. Great men all, with struggles each faced, how they conquered them
and how our modern "Greatest Generation" leaders faced similar issues in the twentieth century. At the end of the ceremony, I can't help feel one left with a renewed patriotic spirit for our great country. I did overhear a teenager comment afterwards that the production was full of lies; I may have set him straight.
On Sunday, I headed back to Billings for Father's Day activities my kids had planned so the rest of the weekend's activities fell to others to plan. They did a good job!
After breakfast and driver's meeting, the group decided to visit the Minuteman Missile Visitors Center located off I-90 near Wall, South Dakota. The visitor's Minuteman Missile Center is part of a group of several sites managed by the National Park Service to tell about the Cold War.
The center has some excellent exhibits, interesting films and allows visitors to explore the Minuteman Intercontinental Ballistic Missile System and its role in the larger context of the Cold War.
For lunch everyone decided to play tourist and visit famous Wall Drug located in Wall, South Dakota. We've all seen the signs for Wall Drug lining the interstate system for hundreds of miles. Wall Drug was featured in the recent Academy Award winning movie "Nomadland." They have a crazy collection of stores, souvenirs, and kitsch. From the photos I saw, I didn't see any Wall Drug bumper stickers on any of the Porsches. Maybe a future visit to Sea Lion Caves in Oregon would get better bumper stick support, however, I doubt it.
On Monday, everyone headed home on their own schedules. Most opted for the freeway home, some took two-lane Highway 212 via the southeast corner of Montana.
Overall, it was a fun weekend with good friends and memories made. It showed the friendships made in the Porsche Club are genuine and extend beyond our planned Club activities. A fun trip can happen by someone simply making a suggestion to get the ball rolling. It's clear why bikers flock to South Dakota and the Black Hills each year en masse. The roads are fun, the scenery is beautiful, the folks friendly, and you will leave with a smile. We'll be back to the Black Hills and continue to explore that corner of Absaroka Region.